When the Youngbloods boast about their climbing abilities, and Kitt Peak is mentioned, I listen and wonder if I have the lungs and the mettle. They say "Wind, rain, cold, grind, sweat, blood, tears, blah blah blah blah!" (There is some truth to this by the way.)
It would be my 1st time to do this famous ride that everyone talks about. Many people visit Tucson just to take a crack at the Peak. If you all reading this know me, I'm a big guy--and big guys are not known for their climbing ability. It's work.
The start--6 a.m. 12 miles to the top!
I can see Kitt Peak Observatory from my kitchen. Now when I look out there--white telescopes gleaming--I can feel okay about it. One day if distant future relations are visiting, they may recall stories that Great Uncle Bruce used to ride his bike up to the top of this Peak. My hope is that they would see and meet other cyclists doing the same, and strike up conversation. Maybe they'll picture the old man as once the fit and strong cyclist. Lean and tall, tan legs from Tucson Sun.
Of our group of friends that rode up, I certainly was not the first or fastest to the top, nor was I the slowest, struggling to finally reach the finish. Its not about that; who's first or last. It helps to be fit, of course, or it could be quite unpleasant--its saying to yourself, "Allez!"
Feel the wind and the sun. Smell the ground and the fresh rain. Hear the songs of the birds as they announce their claims to the treetops.
Look beyond--and the Greatness is revealed.
You are not the first, and you are not alone--others have been coming this way for a thousand years before you.
Behold your place in the Greatness.
I've got the bikes on Bev's new car. Scratch the car and I'm dead!
On the way up. I started to really sweat the first couple of miles, but then relaxed and enjoyed the views, and stopped just for a moment for the photo. Baboquivari Peak is in the distance.
Getting close! Over half the way. Brrrr! I brought arm warmers and glad I did!
Getting there.
One more mile!
Made it up. Took me a little less than 2 hours.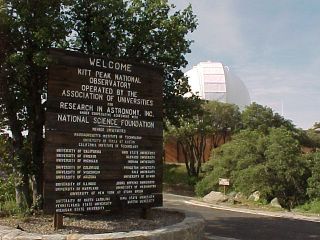 C'est moi.
I'm faster. No, I'M faster. No, I'm faster. NO. I'M faster...
Message from scientists. Gift shop opens at 10 a.m.
Message from the Gods?
Overall, the ride wasn't as tough as I thought. It got pretty cold when I arrived up there. But then the sun came out for a few minutes, and it got warm and sunny.
To my surprise, Gerry Goode called expecting to leave me a voice mail on my cell phone. "Where are you?" "Up on Kitt Peak, just getting ready for the ride down." "Who's with you up there?" "Dave, Jim, Bob, and Raymond..."
Got cold again, so we headed out. Going down was very fast. I took it easy because I got a good jolt from a rock in the road. I didn't see it and clipped it hard. Boy--almost sent me off the road into the trees. The rain the night before washed marble-sized chunks of rocks and bits onto the pavement.
I gained confidence on this outting because Steve and I will climb on the 600 K, June 25th, in Boulder, Colo. This
Kitt Peak
ride was only 12 miles. Colorado will have longer climbs, but we'll gain our time back on the way down.
Oh yeah--slept on the floor for 2 hours after I got home--too tired to go take a shower and hit the sack.
A biento!