5 am start from Steve's house in Scottsdale, and a promised stop for breakfast at about 30 miles. Then on to Wickenburg for lunch--then the climb to Prescott, mes amis!
Steve and I North of Phoenix and west of Cave Creek.
I found some plasitc hula flowers in a Scottsdale neighborhood. A sign of good luck for our journey.
"This is the only place between here and there--so LET'S EAT, DUDE."
Point of No Return... Here we go! On to Wickenburg!
Wickenburg and Congress are in the distance. Way in the distance... That's a stock yard in the foreground. How do I know? Ever driven past one in your car?
Yarnell has a 9 mile climb. At this picture, we're right at 100 miles into our journey. Steve's GPS worked well on it's maiden voyage--cool!
Near the end of the climb.
The top--where the desert breeze meets the mountain air. Yeeesss!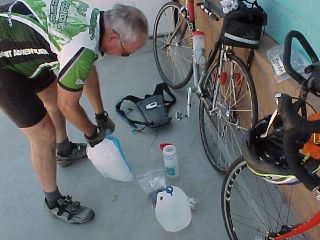 Getting ice in Yarnell, Arizona.
The High Desert.
We still have a good deal of climbing to go--and then a 15 mile climb up to Prescott. The ride to Wilhoit were some of the toughtest miles I've ever ridden. Very hot, and lots of gradual never-ending climbing--to get to part where you start the REAL climbing!
The climb to Prescott begins. The intense heat we struggled with is behind us, now the elevation!
Here we go! Steve climbing up Hwy 89.
Tough climb. Gentle beauty. Well worth the effort.
After all the climbing--the Downhill!
We made it.
The best thing about this ride is that Kim met us to drive us back to Scottsdale. Steve and I didn't have time to stay over in Prescott and then ride back to Scottsdale this trip, but maybe next time.
With Kim encouraging us, and letting us leave all the heavy extra water bottles and stuff with the van--we were lighter for the last 3 or 4 really difficult miles to the top.
The scenic and fast descent into Prescott rivaled my Mt. Lemmon climb with the team last week. Before I knew it, I was in Prescott and in the Town Square.
This was one Hell of a 139 mile ride. There were times when we were totally finished--dehydrated, out of water, fighting leg cramps, and the heat--but as true Randonneurs in spirit--we pressed on! Bon courage!
Steve and I both had episodes of Killer Leg Cramps awhile later. Steve first while getting into the van, and me later when we were almost to Scottsdale.
So today I feel like I've been run over by a truck--But we made it!
Finis!!!